Blush pink isn't a paint colour just for babies nurseries – oh no! If you want to create a soft cosy warm glow, you can't beat a pale pink colour in any room in the house. So far I've added shades of blush pink paint in my main bedroom, in the kitchen and in the living room. In fact I'd probably just wrap the whole house in a lovely pinkish glow if I could! There is definitely a shade for every occasion. Although pink is often seen as a 'girly' paint colour – and it can come in some really saccharine shades- in a soft blush it can be surprisingly neutral!
I have used this soft blush pink colour in our main bedroom. The room is at the front of the house and North-West facing, so can feel a bit cold and gloomy, particularly in the mornings. I therefore wanted to create a space that felt bright and airy – taking advantage of the high ceiling, but also cosy and warm. So I wasn't hoping for much then! Here is the mood board I made:
And here is the (semi) finished room:
I love the warm peachy tones of this blush paint, which are miles away from a sugary pink. It just makes it feel like there is a beam of sunlight hitting the walls all the time. Adding mustard yellow accents really helps to add to the cosiness and warm feeling of the space.
Calamine – Farrow And Ball
Pink and grey is a classic colour combination, so teaming our grey kitchen cabinets with a soft pink paint when renovating our kitchen made perfect sense. The colour we chose was Calamine by Farrow and Ball. I absolutely love how this soft pink (which has a tiny hint of grey) really makes the grey cabinets pop and warms a space that could otherwise look quite stark.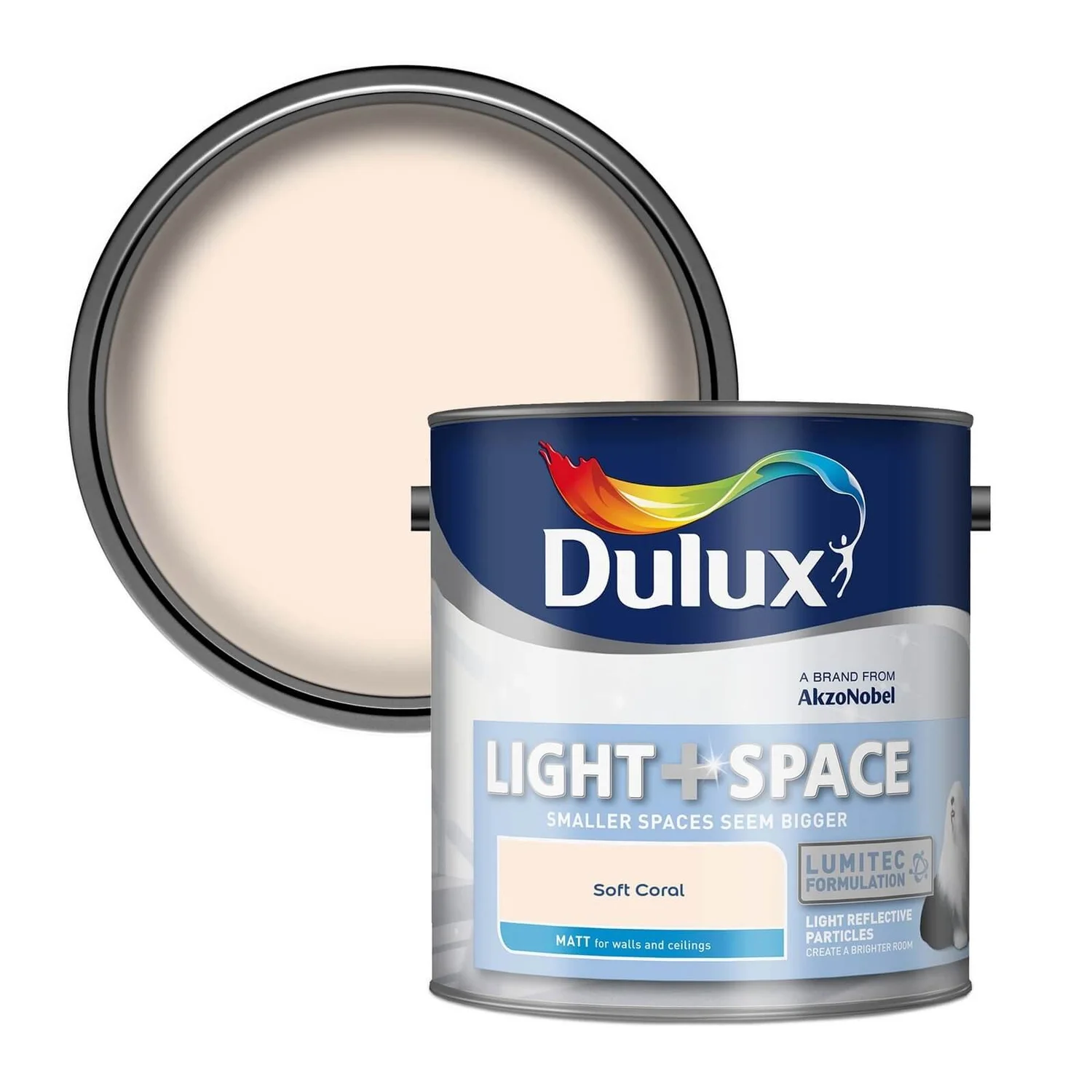 This is my default warm off-white pale pinky paint colour. I had it on the living room walls in our old house and it just gave the room a glow, but it's neutral enough that it would go with pretty much anything.
As this is part of the Dulux Light & Space range, this paint colour is particularly suited to warming and brightening a darker room.
A gorgeous pretty peachy dusty blush pink! This paint is perfect for almost any space within the home, in the pictures linked below you can see how it works in a stylish bathroom and a gorgeous living room:
Not only is this a gorgeous restful shade of pink, but this blush paint is also environment and vegan friendly!