Have you inherited ugly bathroom tile and don't know what to do with it? Don't have the budget to change it? Painting your bathroom tiles is a great way to quickly and cheaply give your bathroom an update. There are lots of different ways that you can use tile paint; here are some of the best bathroom tile paint ideas for inspiration!
Paint the Whole Lot
The quickest and simplest idea for updating your bathroom tile is to simply paint the whole lot. This can very quickly take an ugly outdated tile and neutralise it, and give a bathroom a really quick refresh. For example Corey at Reveal My DIY transformed her bathroom tile simply by painting it all white:
Corey took her bathroom from beige, to a clean fresh white:
Whilst not my bathroom, I have recently given my utility room backsplash tile a similar refresh just using paint:
Checkerboard Paint Pattern
Another super simple idea is to choose a colour or 2 colours and paint the bathroom tiles in a checkerboard pattern. All you need is some masking tape and the tile paint. Amanda at Love and Renovations painted her bathroom floor tiles in a lovely white and terracotta combination: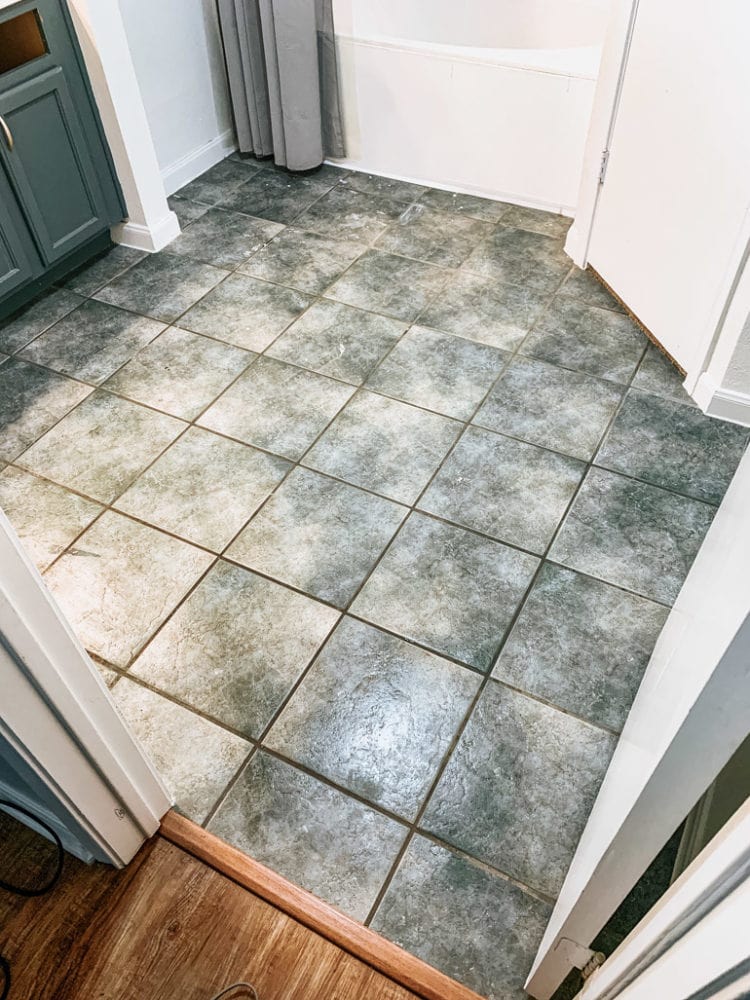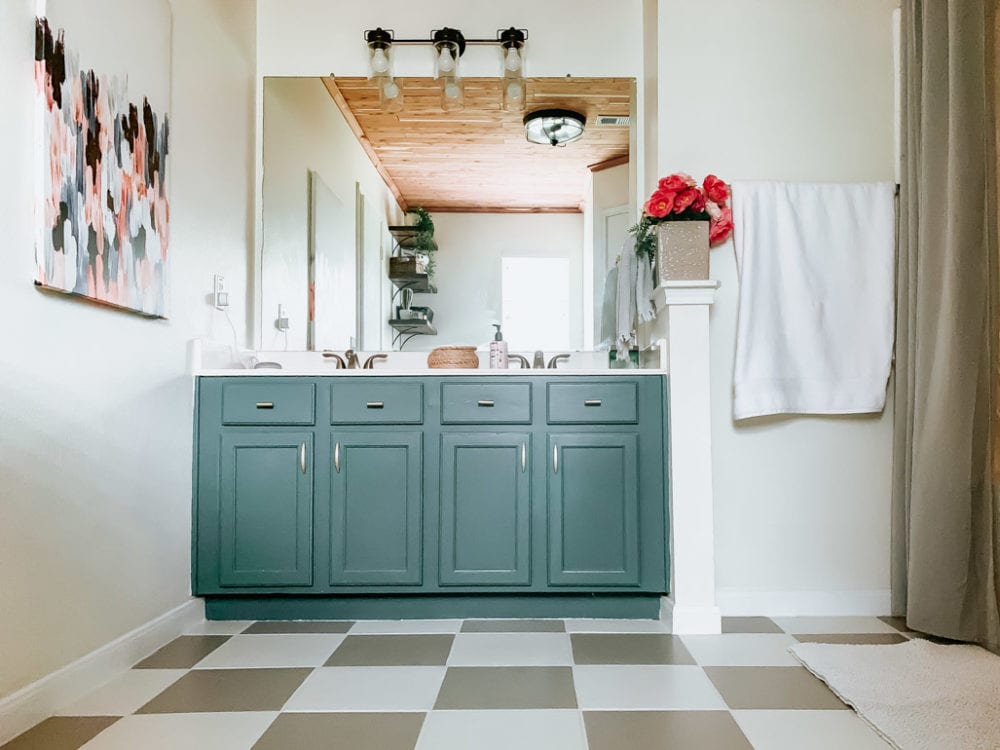 Paint The Rainbow!
Another great bathroom tile paint idea is to go multicoloured! There are numerous ways you can do this – stripes, multicoloured patterns – you can go as far as you like! Here are a couple of ideas below:
The gorgeous coral ombre tile painted shower above was created by Kate at Housemixblog.com – Full details can be found there.
Kathie @the_koo_koo_nest gave her bathroom tile a new look with this multicoloured paint idea:
Use A Stencil
Transforming your bathroom tile just with paint and a stencil is a great idea! There are all sorts of stencils available that you can use to completely change both the bathroom walls and floors. I have mentioned previously how @Crack_The_Shutters on Instagram carried out a stunning transformation of her bathroom using a tile stencil. There are also many other stunning examples:
Use Paint Chips
One of the best bathroom floor tile paint ideas I have seen is by @Mishkashoe (actually on her hallway tile) is to use paint chips to give a terrazzo floor effect. There is a full tutorial in her Instagram highlights.
Paint the Grout Instead
If painting the bathroom tile is too much – why not change the colour of the grout instead? You can buy grout pens very cheaply and simply colour in the lines! The picture below is from a blog by The Frugality – showing how to use a grout pen and giving her review of it in her kitchen.
Hopefully there is some inspiration here to show you how you can quickly and easily transform your bathroom tile with paint and some creative ideas. To complement your new tiles, you can get some other cheap bathroom makeover ideas here!